UTMDigital is pleased to invite all of UTM staff or interested parties to Promote and Advertise Your Product Brand Direct to the Eyes of Campus Citizens.
This Advertising Platform Is The First Of Its Kind In Malaysia. UTM Ads platform will injecting digital advertiser banner direct into a user browsing session via campus Hotspot Wi-Fi network (UTMJB and UTMKL) and promoting the product brands and contents. As long as the user is using campus Wi-Fi network, the banner impression will continuously be repeated during the browsing session even they change the website page
Don't Just Communicate, Advertise!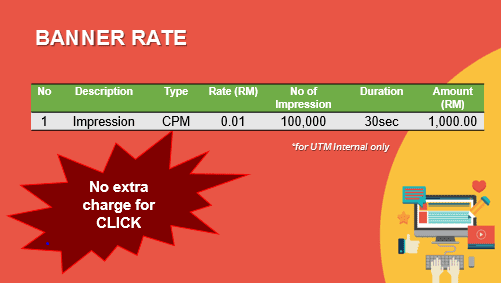 Please do not hesitate to contact us if you require any further information.
For further enquiries, please email to­­ cictbusiness@utm.my
Key Features
Supports any type of screen size and device with any operating system :Windows, iOS, Android.
Support all kinds of Banner/Media Format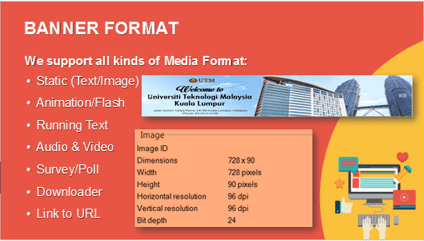 Support all kind of devices such as laptop/tablet/smartphone
Banner still appear even they change the website page
Running 24/7
Location Based
Analytic and Reporting provided
Here are the Advertisements Guidelines that need to be followed